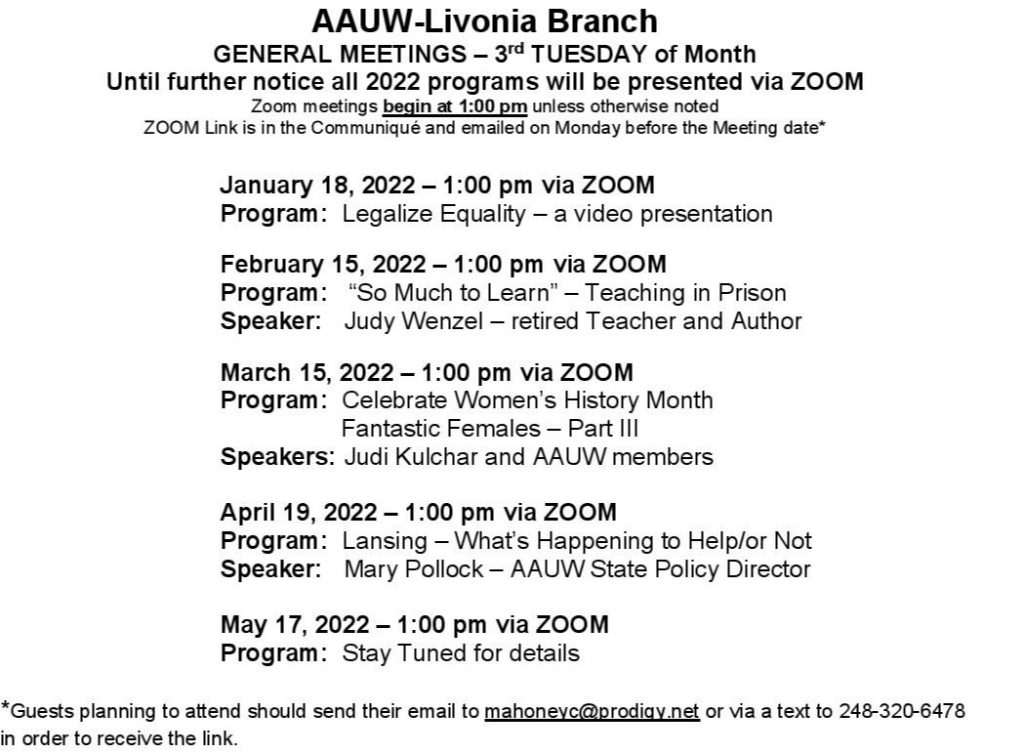 ---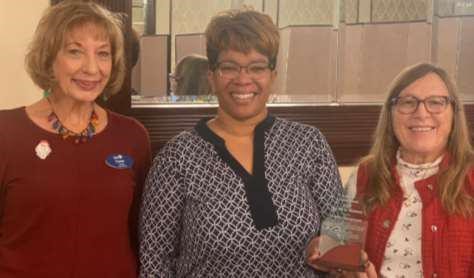 Pictured left to right
Lynn O'Neil – President AAUW-Livonia, Awardee Tracey Stevenson and Charlie Mahone
Click here to read more
---
Livonia AAUW continues to Partner with Schoolcraft College STEM program for middle school girls in Livonia Public Schools
On March 5th Carol Strom and Betty AAUW-Livonia Education and Equity Chairs along with volunteers from AAUW will be at the Schoolcraft College/AAUW Livonia/Livonia Public schools STEM program for girls. This is the seventh year that Schoolcraft and our branch have joined in hosting this STEM for Girls program at Schoolcraft. Carol, who is also a Trustee for Schoolcraft, and Betty who also chairs our scholarship committee, have been very instrumental in the planning efforts for these events. The event is attended by over 150 young girls and their parents. The Livonia Observer had a full-page article on an earlier year's event which is attached here. Thanks to Carol and Betty for keeping us involved with this great program and thanks to the volunteers who provided support for the event.
Click here to read the full article.
---
The Livonia Branch is comprised of 123 women who enjoy working together to advance the AAUW mission of promoting equity for all women and girls, lifelong education, and positive societal change.
AAUW advances equity for women and girls through advocacy, education, philanthropy and research. Founded in 1881, AAUW is open to graduates with an associate or higher degree from an accredited college or university. Dues support the operations of the Livonia branch, founded in 1971, as well as the state and national organizations.
Livonia Branch of AAUW provides an opportunity to:
Meet women in your community with similar interests
Enjoy diverse activities in a friendly atmosphere
Help promote education for women at all levels.
---
AAUW Livonia Celebrates 46th Salute to Women
Annually AAUW Livonia Branch presents their "SALUTE to WOMEN" Award recognizing women
whose efforts reflect the goals of AAUW and whose contributions enhance the quality of life.
The American Association of University Women (AAUW) Livonia Branch held its 46th "Salute to Women" Luncheon on Saturday, December 14, 2019. This year's honoree was Denise King retiring Executive Director of Community Opportunity Center in Livonia.
For nearly 40 years Denise has helped shape Livonia into a community of which we can all be proud. Denise has been on the front lines, partnering with local families regarding the long-term care needs of their adult children with Developmental Disabilities (DD). Ms. King was among the first to facilitate the movement away from institutions to homes in the community for those with DD and has been a tireless advocate for people with disabilities and their families. Her passion, commitment and involvement in changing the world for those with disabilities is beyond match. For her work in this arena she was inducted into the Livonia Hall of Fame in October 2019.
King took the role of Executive Director of the Community Opportunity Center when it was not as generally popular (as it is now) to have a female as the head of a company. And, in addition to her day job as ED, she followed her passion for "the right thing", and became the Champion/Advocate for filling their needs from housing to healthcare and work opportunities.
Her passion, commitment and involvement in changing the world for those with disabilities is beyond match. Some of the areas of care that Denise has helped to fortify include:
Focusing on broader range of criteria for acceptance of individuals for housing;
Building programs to allow the residents feel they are part of a family;
Establishing programs of caring for residents through a terminal illness, assuring that residents health needs are supported;
Building opportunities for training and work experience;
Providing continuous review to determine and address quality home environments;
Establishing Community Enrichment Programs offering services for individuals living with parents but in need of assistance.
Thanks to Denise our city is a place where those living with developmental disabilities can thrive – she creates opportunities where before there may have been none.
For Denise "this is a passion" and she is commended for her advocacy for improving the lives of individuals with disabilities living in our community.
We were pleased to present Denise King our Salute to Women Award.